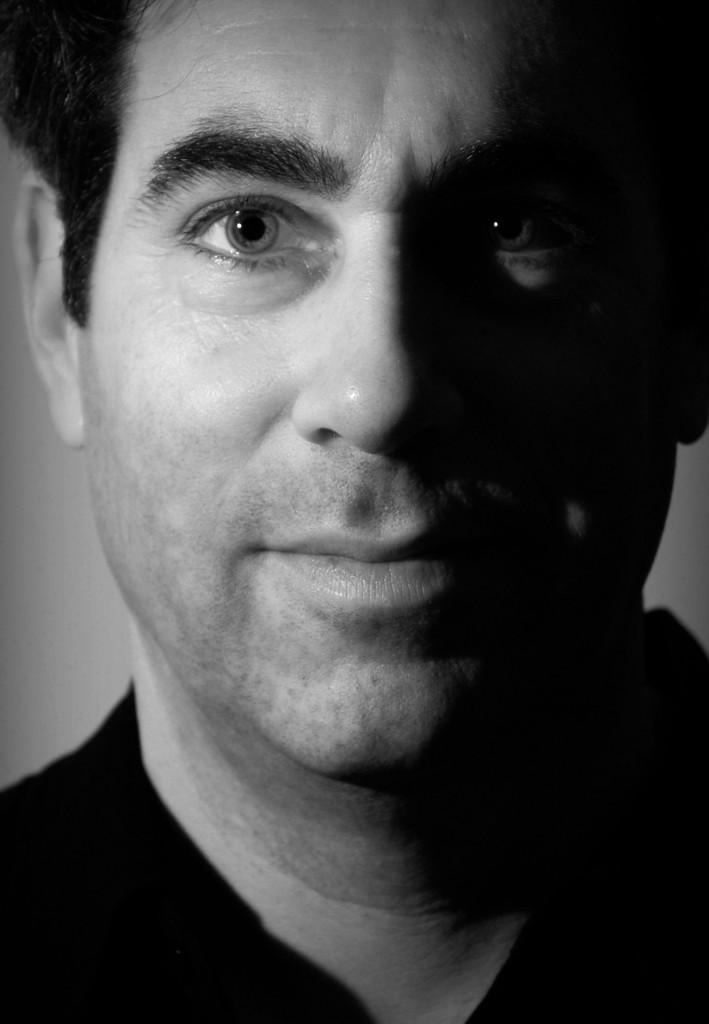 With more than 2,000 commercial credits to his name over the past 20 years, Bill Haley is one of the region's most prolific media makers. He  is an award-winning producer/director and principal of Allied Pixel, a digital media production firm that connects the dots between video and interactive. He's also one of the founders of PhillyCreativeGuide.com. Bill lives in Chadds Ford with his wife Rebecca, two kids and numerous pets. Contact him at bill.haley@alliedpixel.com.
1. What kind of kid were you?
Shy. I was the kid at the birthday party who was standing in the corner, wondering when I could go home. I spent a lot of time riding around on my bike, thinking about things.
2. What influences have shaped you?
Chronologically: Captain Noah, Dr. Seuss, Gene London, Hardy Boys, The Monkees, Ultra Man,  Batman, Spider-Man, Star Trek, Vincent van Gogh, Get Smart, Ernest Hemingway, Led Zeppelin, Stanley Kubrick, David Lynch, The Clash, Elvis Costello, Wes Anderson. Lately I've been listening to Ashley Monroe and RadioLab. Maybe the biggest influence was my mom, who helped me learn to believe in myself. Sounds trite, but she did and it made all the difference.
3. Ever done anything really dumb?
That pretty much sums up my teenage years. In particular, being pulled over by a state cop and having to bite the caps off two dozen Moosehead bottles, along with my buddy Jay.
4. How'd you learn to do what you do?
I have two bachelors degrees and an MBA but didn't really learn anything useful in college. What I've learned, I've learned by doing. Picking up a camera and learning how to shoot. Reading and writing and learning how to tell a story. Spending time with people more talented than me, asking questions and learning their craft. I try to learn something new every day. I read voraciously and I'm a big fan of Lynda.com.
5. What are you working on now?
At Allied Pixel, we've got about 30 active projects going on right now. Videos, websites, interactive, mobile stuff. On the side, my indie film pet project, Steve Phoenix: The Untold Story just finished up a tremendous year on the film festival circuit and is going into distribution. And I'm getting involved in some political campaigns for the upcoming elections.
6. Walk us through a typical day at work.
Well there are basically two types of days for me — office days and shoot days. Office days start early, around 5am. While everyone else is sleeping, I get caught up on emails and get my day organized. I take my son to the bus stop and then head into the office. We have a daily production meeting first thing and the rest of the day is split between managing projects and working with clients. I go to the gym every day at lunch. And I'm home by 6p. There's no such thing as a typical shoot day. Each one is unique, exhilarating, exhausting.
7. Who do you love?
I'm an Aquarius — I love everyone. In particular I love my wonderful wife Rebecca and our two kids, Graham and Grace (ages 5 and 4.) We did an audio book once about something called Agape love, which is a kind of universal love for all mankind. Love is a powerful thing; we shouldn't be afraid to share it.
8. What are you passionate about?
The future. I think about the world we are leaving to our kids and I worry about it. There are so many things we have to get better at — the economy, the national debt, education, gun control, the environment. I'm getting a lot more political in my old age and I want to support people and causes that are working for a better future.
9. What are you proudest of?
Employing some really amazing people over the years and helping them find their voice, hit their stride and earn a good living. And I'm proud of the work we do here at Allied Pixel every day, going the extra mile to deliver really exceptional work.
10. Describe a great night out.
Going to the movies with Rebecca, then a couple vodka tonics at Buckley's, followed by dinner at the bar at Mendenhall Inn (usually splitting a Caesar salad and club sandwich.) Just as good: Staying home and watching Nat Geo Wild with the kids.
11. So what's next for you?
I'm interested in doing more documentary work for social good and higher ed, and exploring ways to use social media to help drive positive change in the world.
12. What will your epitaph say?
Here lies Bill, he was over the hill.
Have a suggestion for someone we should feature on 12 Questions? Let us know!